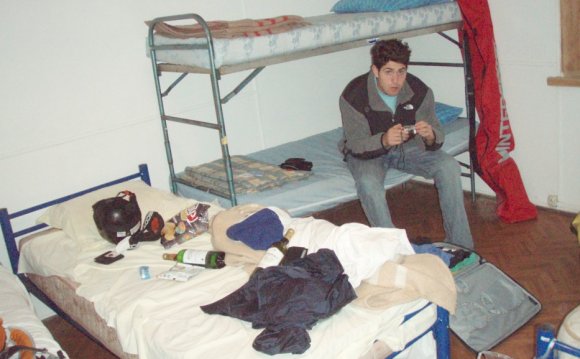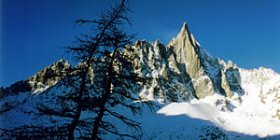 Nestled high in the northern French Alps Chamonix is not only one of France's top resorts but one of the World's best ski destinations. Commonly referred to as the "World's mountain sports capital" Chamonix is famous for extreme skiing and snowboarding terrain set amongst amazing scenery and an exciting picturesque town.
Chamonix Ski and Snowboard Terrain
Expect challenging breakneck powder filled terrain on some of Europe's most spectacular slopes. Chamonix has it all: - powder fields, endless hiking opportunities leading to cliff drops and narrow hair raising steep chutes, glacier skiing and snowboarding, huge moguls and long intermediate groomed linking runs plus gentle sloping beginner areas.
© powdertravel.com
Whilst trails are groomed they are not manicured like many other resorts in France. This is beauty of Chamonix and what makes it different to other resorts. Intermediates and beginners are very well catered for but it is the advanced and expert skiers and snowboarders that get the most out of the Chamonix Valley.
The skiing and snowboarding in the Chamonix Valley is divided across six main resorts each with its own specific feel and diverse terrain. The six resorts are; Brevent, Flegere, Grands Montets/Argentiere, Les Houches and Le Tour.
Together the six resorts cover over 140 kilometres of groomed runs and are connected by a free and efficient bus service. The Chamonix lift system is old yet efficient but on powder mornings the base queues can be enormous so try to get out really early.
The ski patrol in Chamonix does not discourage off piste skiing and snowboarding. They tend to have the attitude 'if you can get to it you can ski it' however caution should always be taken when heading off piste anywhere. Off piste guides are readily available for hire at any of the six resorts in the Chamonix Valley.
Brevent and Flegere Ski and Snowboard Terrain
The closest resorts to town are Brevent and Flegere which are lift linked. From the top of the Brevent Cable Car the mountainous views of Mt Blanc and the Chamonix Valley are breathtaking. On a sunny day you feel as though you are literally standing in a post card.
The two resorts have ungroomed powder filled terrain and long linking wide groomed trails.
For awesome off piste skiing and snowboarding head to the upper areas of Brevent for cliff drops and untouched open powder areas. Some hiking will be necessary but the reward of steep virgin powder snow is well worth it.
For a morning warm up run take the long fast and tree lined Les Nants run from Brevent 1800 all the way down to the base gondola station. In 2009 the Planpraz Gondola in Brevent was upgraded. The new faster gondola has increased passenger capacity from 1, 350 passengers to 3, 000 passengers per hour relieving congestion in peak periods.
Mogul lovers head to Flegere where huge moguls can be found in the upper areas below the Index.
Flegere is more open than Brevent with rolling terrain and open powder fields. It gets full sun all day so after fresh powder be sure to arrive early before the powder starts to soften.
Grands Montes / Argentiere Ski and Snowboard Terrain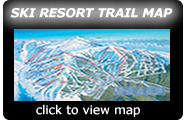 The largest inbounds skiing and snowboarding area in the Chamonix Valley is Grands Montets/Argentiere.
It has the valleys most challenging inbounds terrain with hiking opportunities into off piste powder, steep fast advanced trails, huge moguls and intermediate well groomed pistes.
The exceptional Point de Vue run down the Argentiere Glacier is a particular highlight for advanced skiers and snowboarders. Accessed from the top Cable Car station the top half of the run is steep and fast then it starts to flatten out. Do not race down the glacier, take your time and look out for hidden crevices. It is a surreal experience and for those not up to the 22km long Vallee Blanche glacier run the Argentiere Glacier is an easier option. Guides are available to take you down but on a sunny day it could be negotiated in your own group quite safely.
Speed riding was introduced in the 2007/2008 winter season at Grands Montets and Le Tour. It consists of skiing down a very steep slope with a harness and a sail attached. Once a certain speed is reached the skier is lifted into the air; the object being not so much to fly but to glide down the slope in control of your skis. The paragliding school at Grands Montes, 'Les Ailes du Mont-Blanc' has lessons available for first timers.
Grands Montets/Argentiere has a boardercross course and terrain park however with so much naturally challenging ungroomed terrain around them they don't see too much action.
Les Houches Ski and Snowboard Terrain
The small sheltered resort of Les Houches is at the far west end of the Chamonix Valley. It has challenging and extensive skiing and snowboarding terrain on groomed trails of varying descents best suited for confident beginners and intermediates.
As most of Les Houches long trails are below the tree line, in blizzard conditions when the other resorts have poor visibility, the winding trails through the pine forests are very inviting.
The French National Ski Team frequently train on the internationally acclaimed Men's World Cup downhill run La Verte-Kandahar the only black run at Les Houches.
A day pass must be purchased to ski or snowboard at Les Houches as the Chamonix Ski Pass is not valid there.
Le Tour Ski and Snowboard Terrain
Confident beginners and intermediates love the smaller resort of Le Tour with the wide open free rolling gentle terrain littered with natural gullies and halfpipes.
In fresh snow the gentle off piste opportunities are great fun and perfect for learning and improving deep powder turns.
Skiing and Snowboarding The Vallee Blanche
The extreme 22 kilometre Vallee Blanche is Chamonix's most famous run. From the top of the Aiguille Du Midi Cable Car at 3, 842 meters skiers and snowboarders can experience a thrilling 9, 200 feet descent on ungroomed and unmarked powder fields down the Vallee Blanche over the top of the Mer de Glace glacier.
The Vallee Blanche is not just for expert and advanced skiers and snowboarders, confident intermediates could enjoy the run with an experienced guide. A guide is highly recommended as they know the safest way down in ever changing conditions through the glacier fields.
YOU MIGHT ALSO LIKE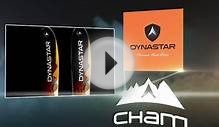 DYNASTAR skis | Cham 87 High Mountain | All mountain freeride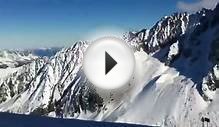 Snowboarding Chamonix-Mt-Blanc | France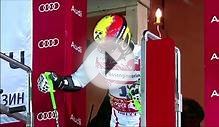 ATOMIC We Are Skiing 2014
Share this Post