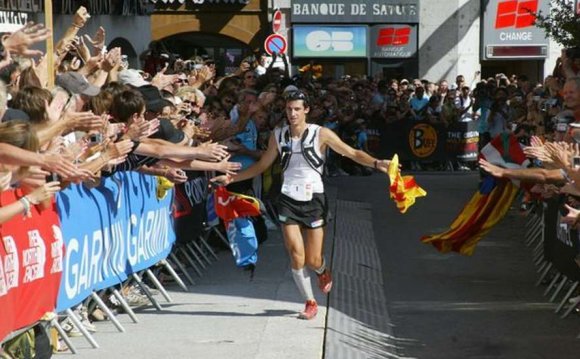 The Ultra-Trail du Mont-Blanc (also referred to as UTMB) is a single-stage mountain ultramarathon. It takes place once a year in the Alps, across France, Italy and Switzerland. The distance is approximately 166 kilometres (103 mi), with a total elevation gain of around 9, 600 m. It is widely regarded as one of the most difficult foot races in Europe. It's certainly one of the largest with over two thousand starters. The combined participation in all of the events is approaching 10 thousand runners.
While the best runners complete the loop in slightly more than 20 hours, most runners take 30 to 45 hours to reach the finish line. There is no prize money awarded.
Since 2006, a second race Courmayeur - Champex - Chamonix (half-loop) has also been organised, and a third race was added in 2009: "Sur les Traces des Ducs de Savoie". A fourth shorter "running" event - Orsières - Champex - Chamonix - was added in 2014.
La Petite Trotte à Léon is a non-competitive team event started in 2011. Each team is made of two or three members for safety. The route and direction of the course change every year. In 2015 it will be run counter clock-wise.
Today, the races consist of the following;
UTMB: Ultra-Trail du Mont-Blanc (166 km +9, 600 m)
CCC: Courmayeur - Champex - Chamonix (101 km +6, 100 m)
TDS: Sur les Traces des Ducs de Savoie (119 km +7, 250 m)
OCC: Orsières - Champex - Chamonix (53 km +3, 300 m)
PTL: La Petite Trotte à Léon (approx. 300 km +28, 000 m)
Logistics

[edit]

A check point on the UTMB 2005
2100 volunteers were involved in 2015.
Runners are supposed to carry a minimum of equipment for safety reasons. This includes a waterproof jacket, warm clothes, food and water, whistle, survival blanket and head lamp.
There are food and drink points along the route, every 10 to 15 km. In addition, four big "life bases" provide hot meals, beds and massages: Chamonix (France), Les Chapieux (France), Courmayeur (Italy) and Champex (Switzerland).
At Courmayeur for UTMB and at Cormet de Roseland for TDS, runners can collect a drop bag they previously left at Chamonix or at Courmayeur.
The organizers encourage solidarity between runners and respect for the environment.
PTL is a mostly self-supported run without course markings or aid stations. Runners rely on a limited number of support points, mountain huts, local stores and restaurants for food and sleep. The course should be followed by GPS, maps, and its description.
The route basically follows the Tour du Mont Blanc hiking path, that is usually completed in 7 to 9 days by hikers. This is a loop around Mont Blanc.
It starts from Chamonix (1, 035 m) and goes up to the Col de Voza (1, 653 m) to reach Les Contamines (1, 150 m). It then climbs to the Croix du Bonhomme (2, 479 m) before going back down to Les Chapieux (1, 549 m), which is the first life base. The path then runs up to the Col de la Seigne (2, 516 m) to enter Italy, and follows the ridge of the Mont-Favre (2, 435 m) before going down to Courmayeur (1, 190 m), the second life base. It climbs again to the Refuge Bertone (1, 989 m) and Arnuva (1, 769 m) before reaching its highest point, the Grand Col Ferret (2537 m), which also marks the border with Switzerland. The path goes down again to Praz de Fort (1, 151 m) via La Fouly (1, 593 m) before reaching the third life base, Champex d'en Bas (1, 391m). The last part includes two rather low cols: Bovine (1, 987 m) and Les Tseppes (1932 m), separated by Trient (1, 300 m). On the descent to Vallorcine (1, 260 m), the path re-enters France and crosses Argentière (1, 260 m) before finishing at Chamonix, its starting point.
The route varies slightly every year, sometimes for safety reasons. In 2010, the route was 166 km long with a total elevation gain of 9500m.
Participation and results

[edit]

Vincent Delebarre at Champex during the UTMB 2005
The race was first held in 2003.
In 2006, a woman won the first edition of the Courmayeur-Champex-Chamonix
The race's popularity and its entry rate have grown significantly.
The number of entrants doubled from 700 in 2003 to 1, 400 in 2004. In 2005, the limit of 2, 000 runners was reached 7 months after registration opened. In 2006, the organisers decided to create the CCC in order to allow more runners to take part. The registrations were sold out in only 2 weeks. In 2007, it was decided that runners must qualify, by running qualifying races beforehand gaining points. That year the limit of 2, 000 runners was reached less than 10 hours after registration opened. For the 2008 event, 2, 000 runners registered in only 7 minutes, 5 months before the race. For the 2009 event, the qualifying criteria were tightened to limit the number of qualifying runners, and a draw was introduced to make entry fairer, giving an equal chance to all qualifiers, and making registration more orderly. Despite the stricter criteria, 45% of qualifying entrants were still denied a place, so the organisers raised entry standards still further for the 2010 event so that selection would be based more on capability and experience than luck of the draw.
Ultra-Trail du Tour du Mont-Blanc

[edit]
The races in 2010 and 2012 were shorter due to bad weather conditions.
Ultra-Trail Courmayeur-Champex-Chamonix

[edit]

Runners by night during the UTMB 2005
YOU MIGHT ALSO LIKE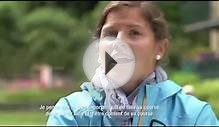 Marathon du Mont Blanc 2014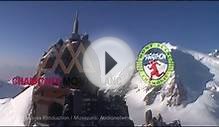 2014 Skyrunning World Championships - Marathon du Mont-Blanc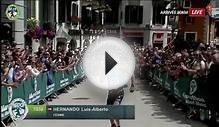 Marathon du Mont-Blanc 2014 - 80Km Arrivée des premières ...
Share this Post