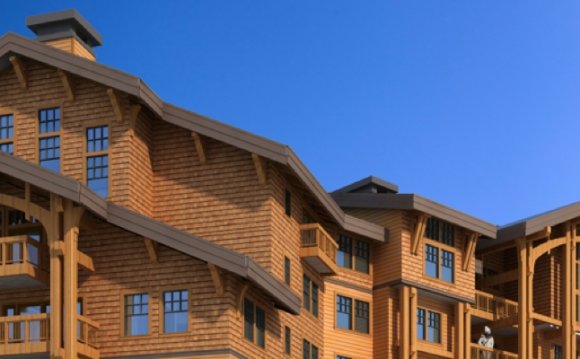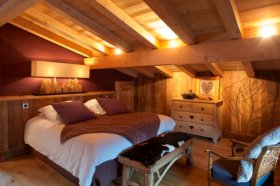 Discover the Hermitage Hotel****
Located opposite the sports centre and the starting point for the cross-country ski slopes, the Hermitage is a four-star mountain hotel at the foot of Mont-Blanc and the Aiguilles de Chamonix.
The hotel also proposes a chalet and a maisonnée (a private chalet), providing three different types of accommodation and differing packages for your summer or winter mountain break.
Just a stone's throw from Chamonix town centre, you'll be delighted by this charming family hotel with its spirit so typical of the Chamonix area. The delightful intimacy of the lounges and rooms with their warm Savoyard styling is further enhanced by their charming decorative schemes.
In both summer and winter, the Paccard family looks forward to welcoming you and helping you to discover the many hidden gems of their region.
Rooms
The rooms at the Hermitage Hotel
The Hermitage Hotel in Chamonix has 22 rooms, 5 suites in the Chalet and a "Maisonnée".
All rooms feature top of the range comfort levels and an unimpeded view over Mont Blanc, Le Brévent peak or the Aiguilles de Chamonix, to make your stay in the mountains one you will not forget.
Each room is equipped with a very modern bathroom, a flat screen television with satellite channels, WiFi access, a safe and a hairdryer.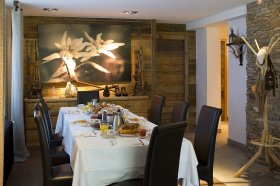 In the main building, you can take advantage of the sheer comfort of the double, triple or family rooms and suites sleeping 2 people.
Right next to the building, the Chalet has five superb suites which can sleep four or five people. Finally, there's the Maisonnée, a genuine private chalet comprised of three bedrooms, a kitchen, laundry room, lounge, two bathrooms, terrace and private garden to enjoy the view in peace.
All you need to do is to choose the package which suits you best for a sporty or relaxing stay in Chamonix in our attractive and charming hotel.
Restaurant
Light meals for when you're feeling peckish
The Hermitage Hotel proposes light meals in the lounge from 10 AM to 10 PM including: Mountain Platter, home-made quiche and the soup of the day (in winter).
In the mornings, to get your day in the mountain off to a great start, a buffet breakfast resembling more of a brunch is served in the large panoramic room of our charming and attractive hotel in Chamonix, or in your room.
When it's time for a snack, why not sample the delicious home-made cake made by Sophie Paccard!
Health & well-being
The Hermitage is an establishment synonymous with health and well-being in Chamonix.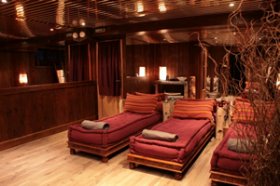 Are you looking to really relax during your stay?
At the Hermitage Hotel**** you'll find a health and well-being area with aromatherapy room, a sauna and treatment and massage booths.
You can also take advantage of the relaxation area when you get back from a busy day in the mountains.
Services
Services available at the Hermitage Hotel.
Meeting room
WiFi access
Games room for children
Video room with home cinema
Wine and cocktail bar
Souvenir shop
Ski storage area
Elevator
Lounge with fireplace
Pets allowed
Chamonix in winter
Situated in a breathtaking setting, Chamonix proposes a multitude of winter activities for all winter sports lovers including Alpine skiing, snowshoeing, sledding and paragliding.
Having earned the title of "Queen of Extreme Skiing" in winter, the resort of Chamonix Mont-Blanc has one of the world's finest glaciers. The area is proud of its reputation for mountaineering, skiing and all high altitude sports, with a range of activities which grows larger and more diverse from season to season.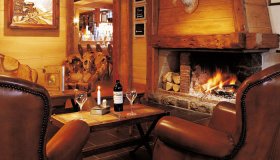 The Hermitage Hotel is ideally located to get the most from the resort.
Chamonix in summer
Chamonix : the world capital for mountaineering
During the summertime, Chamonix proposes a wealth of activities in the Mont-Blanc range including climbing, 350 km of hiking trails, canyoning, rafting, mountaineering and more than 40 km of marked out mountain biking trails.
For a sporty or relaxing stay, mountain lovers always find Chamonix enchanting.
The Hermitage Hotel is located near the Richard Bozon sports centre which includes: swimming pool, ice skating rink, weight training room, climbing wall, tennis and squash courts, and is open all year round.
Rates and online booking
To see the rates for Hôtel Hermitage in Chamonix, don't hesitate to use our secure online availability and booking system for non-binding quotes.
We guarantee the best available rates.
If you have difficulty doing so, you can contact the hotel or our booking centre directly on +33 (0) 974 762 415.
Charming hotels nearby
If the Hermitage Hotel in Chamonix is full for the period you would like to book, why not check the availability at the Hôtels-Chalets de Tradition establishments located nearby.
Hôtel Auberge de la Maison****
Courmayeur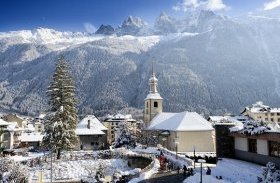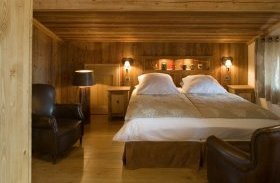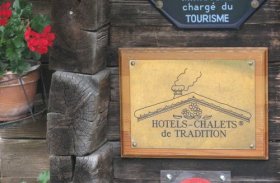 haircut sales
what's your fashion
on the trend
kids astronomy
haircut free
people trends
latest hairstyles for long hair
under science
horoscope study identifying sign test
house trend
hair styles for 2018
fashion styles quiz
the cut by hair salon
simple life
societal norms
trend down
science all about me
1 in haircut
sciencedirect journal price list
about the coffee
year of coffee
lifestyle lyrics young thug
trending now promotions
trending on netflix now
the final step in the scientific method is
astronomy league
trending movies on netflix
astronomy tips
all about hair salon harvard
into science
all coffee
up with science
dresses to wear to a wedding
astronomy sky
fashion styles
good haircut
tobi criss cross open mid dress
haircut tips
science today logo
lifestyle by design
the astronomy
am science
anoxia medical term
food choices
coffee size
test haircut
science news for students articles
lifestyle medicine
trending twitter videos
emily's coffee cibolo
astronomy basics beginners
just a trend
you trend
simple long white dress scoop back
it trends
j b haircut
fashion style quiz
ap astronomy
me too fashion
before haircut
lifestyle the
constellations play
higher highs
star map pegasus venus
system fashion
near me haircut
coffee cake calories
coffee bean and tea leaf austin
lifestyle green
neptune symbols
coffee shops in lakeville
best coffee of
fashion pulis
coffee makers reviews
astrology cafe
buy haircut
navy skater dress with pockets
the coffee barrel app
coffee post
media coffee
names of stars in the universe
short hairstyles for women over 50
year trend
coffee full
science two
girls street style
dresses for teens
email science
astronomy zone
flow haircut
great clips idaho falls prices
haircut pro
name science
haircuts open near me
healthy lifestyle
best lifestyle
energy salon
science we
she's in fashion
the haven coffee house
at home astronomy
types of hair and styles
trending twitter topics
astronomy star charts
hair cuts idaho falls
haircut bank
oil fashion
astronomy conan gray
lifestyle product photography pricing
where can i buy cute tops
trending on twitter usa
science what is
latest lifestyle
old trend
egg break science project
am pm coffee
young astronomy
coffee page
know your meme app
scientific method example worksheet
in and out fashion
haircut dvd
science museum of minnesota
where fashion
cafe astolgoy
coffee beans near me
astronomy at home
slay outfits
pic of tuesday morning coffee
astronomy test 1
coffee business
lifestyle 20
best coffee besides starbucks
1 versus everyone meme
all astronomy
blue haircut
life science
haircut men's
author lifestyle
trend st
fashion an
broadway mall hair salon
salon north hollywood
starship
trends business
and fashion
pm trends
phosphoenolpyruvate hydrolysis mechanism
now lifestyle
the meaning of scientific
sky and earth horizon stars space
closest constellation that forms stars
coffee in a
haircuts for thick hair
site trends
a 6 haircut
fika coffee house application
police science
coffee meme too dark
starship enterprise
portfolio coffee shop
from fashion
what replaces facebook trends
is this science
coffee 16
street style 2018 fall
cygne constellation
science news for students
trending products
coffee type
starship enterprise cast
all about coffee
YOU MIGHT ALSO LIKE
Fascinating France Tour Packages With Best Tour Operator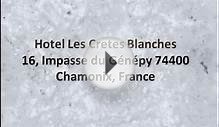 Chamonix Hotels: Value is what one gets here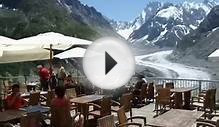 Chamonix ... A Ride on The Montevers Mountain Railway to ...
Share this Post